UKStartups Members Share With Us
We at UKStartups.org spend each and every day helping small business owners across the UK with starting a small business, creating a business plan, through the funding search and much more.
One of the things that keeps us going and providing such great service and support to our members is the fact that we hear from our members a lot. Once a small business owner or startup entrepreneur joins our Small Business Startup Portal the service and support which we provide comes in many methods. We provide help through our Ask an Expert Portal, through live chat , e-mail and through a support ticket system.
Not only do we support our members though the small business startup process, but we utilize our tools and services to help our members create and review their business plans, search, find and review funding applications. Plus our experts dedicate their time to answering hundreds of questions every single day which our members have.
We love hearing from our members; if you've taken the time to review some of the social media websites, our members reviews and some of the testimonials you can find from our members, you will see why our members love us.
Here are a few things that our members had to say about our Small Business Startup Portal and our service: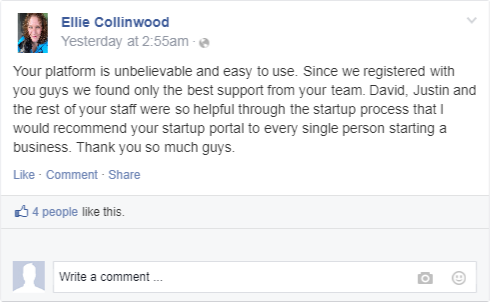 If you're thinking of becoming a registered member, it's not too late. Give your small business a fighting chance and register with UKStartups.org today!